The Few, The Proud, The Marines Forum
Backup location for this board.

If you forget the URL for this board, or you are at a different computer and don't
have the link just go to usmcforum.net for a clickable link to either board.
SORDID -- Draft-dodger's battling wives. . . *PIC*
Posted By: LongGone
Date: Monday - October 9,2017 18:36
(WashPost) . . . Even the Trump family has become a flash point. On Monday, the president's first and third wives — Ivana and Melania, respectively — engaged in a public spat.

In an interview with ABC's "Good Morning America" to promote her new book, "Raising Trump," Ivana Trump [below], the mother of the president's three eldest children, said: "I'm basically first Trump wife. Okay? I'm first lady."

The actual first lady, Melania Trump, did not let the slight go unanswered. Her spokeswoman at the White House, Stephanie Grisham, issued a statement dismissing Ivana's comments as "attention-seeking and self-serving noise."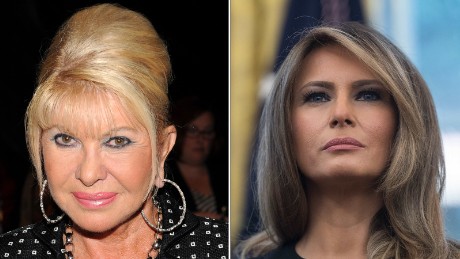 (views: 21)
--
The Few, The Proud, The Marines Forum is maintained by Rick with WebBBS 5.01.