The Few, The Proud, The Marines Forum
Backup location for this board.

If you forget the URL for this board, or you are at a different computer and don't
have the link just go to usmcforum.net for a clickable link to either board.
Duncecaps 4 endless heave-ho parties. . . *PIC*
Posted By: LongGone
Date: Tuesday - March 13,2018 16:18
WASHINGTON—In an effort to make the frequent festivities for departing staffers more efficient, White House officials announced Tuesday that the administration is now just holding one continuous going-away party.

"Instead of throwing a send-off celebration for Rob Porter and Rick Dearborn only to turn around and do it again a week later, we will now simply hold around-the-clock gatherings with light refreshments and cupcakes to honor whoever left the administration most recently," said Press Secretary Sarah Huckabee-Sanders, adding that employees may now join their coworkers at any time of day in the permanently decorated White House kitchen where a never-ending stream of staffers will announce that this is their last day, perpetually deliver farewell speeches, and constantly pass around and sign goodbye cards for continuously departing coworkers.

"In order to avoid another situation like when we had three separate get-togethers in one week for Sean Spicer, Michael Short, and Reince Priebus, aides may now enjoy a cup of soda, don a party hat, reminisce over fond memories together, and say their farewells whenever it is convenient for them."

Huckabee-Sanders added that she looks forward to seeing everyone in the kitchen, where she expects to be honored shortly. (Onion.com)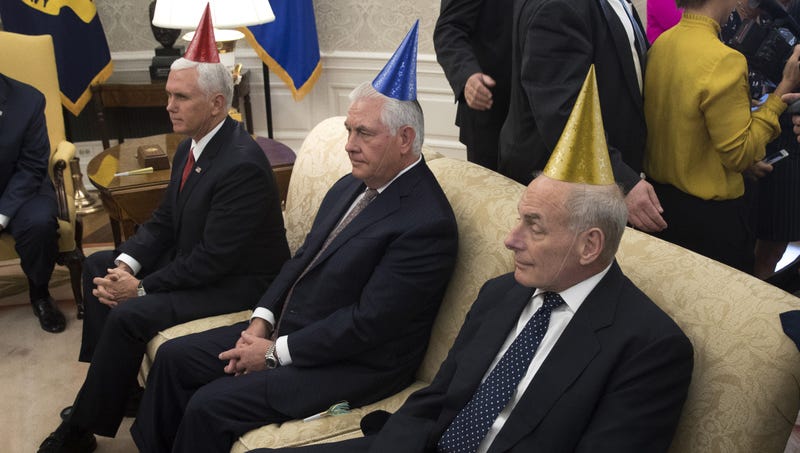 (views: 58)
--
The Few, The Proud, The Marines Forum is maintained by Rick with WebBBS 5.01.