Non Gratum Anus Rodentum
(Not Worth A Rat's Ass)
Reading; Suddenly We Didn't Want to Die by Elton E. Mackin.
At the end it states that no part could be used without permission.
Seeing that this book is rather old and all who took part in our armed forces in World War I.
Are now in their graves, we could compare their service with our service in Vietnam.
The 5th Marine Regiment was the first to leave for France followed by the 6th Marine Regiment as they were known at that time.
They were followed by the 1st and 2nd Replacement companies; Elton was part of the 3rd Replacement company.
That was replacements for all those killed or wounded at Belleau Wood.
Elton in his book talks in the 3rd person as 'Slim'.
Now to our service in Vietnam in late March, the 9th Marines went into Vietnam.
Nevertheless they were made of 3rd Battalion 9th Marines, 3rd Battalion 3rd Marines landing across 'red beach' and landing off some helicopters.
The 3rd Battalion 4th Marines would steam up close to Phu Bai, we were taken by 'Mike' boats to station of Military Assistance Command, Vietnam (MACV).
We went in as units, later there would 'replacements' for the dead and wounded as they took place.
On reading 'Give Me Tomorrow' about the Korean war, our beloved Corps was just the 5th Marines at Camp Pendleton and the 6th Marines at Camp Lejeune.
When the war broke out, the 6th Marines went west to Camp Pendleton where they became the 1st Marines.
From a web page; On 17 August 1950, after the outbreak of the Korean War, the Regiment was reactivated, and on 21 September 1950 the Regiment landed at Inchon, as part of the 1st Marine Division.
Now were did all these Marines come from to make up this regiment?
Nevertheless, they had officers and NCOs to lead them out of the 'Breakout' from the Chosin Reservoir.
At that time there was 3 battalions and 3 companies per battalion.
Able, Baker and Charlie made up the 1st battalion.
Delta, Echo and Fox made up the 2nd battalion.
Golf, Hotel and Item made up the 3rd battalion.
Now there is 4 companies per battalion
Able, Baker,Charlie and Delta, made up the 1st battalion.
Echo Fox Golf and Hotel made up the 2nd battalion.
India, Kilo, Lima and Mike,made up the 3rd battalion.
Mike company is now replaced by a Weapons company.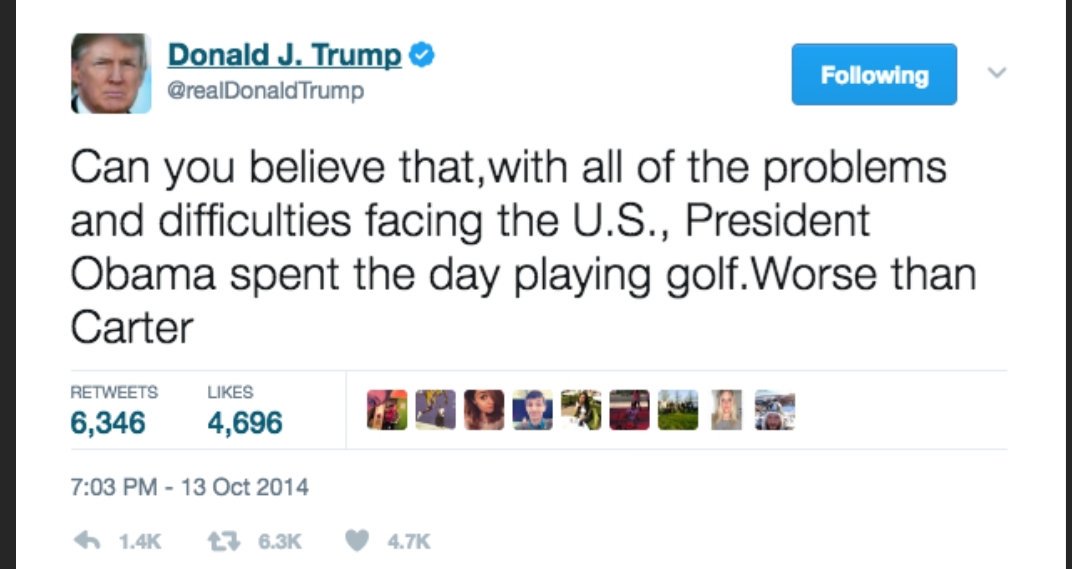 At the last count 'Little Donnie' has golf more in three years than President Obama did in eight years.
And this week-end golfing while hurricane was heading for our East coast.
Was not the best thing to be doing.
At the last count 'Little Donnie' has rolled back some 85 rules pass by President Obama.
From rules on air quality and the water we drink, some just because he wants to pay back President Obama.
For making him the 'butt' of a few jokes at the annual dinner for journalists.
@portia_davison
Replying to @realDonaldTrump
There were 43 presidents before Barack Obama but he is the ONLY one you seem to be fixated on.
I wonder why that is? Nah I know why... you only count up to the #1 - meaning YOU.
It just can't be the color of his skin nor the swag that he displays.
If people think they're "paying for someone else healthcare" they'll dismantle their own healthcare.
Beyond the moral wrong, racism is a powerful political tool used to dismantle public goods & civil rights.
If people were actually concerned about undocumented people, the clear solution would be to offer documentation.
It's safer & secure for everyone.
- Alexandria Ocasio-Cortez (@AOC)
Paranoia is an instinct or thought process believed to be heavily influenced by anxiety or fear.
Often to the point of delusion and irrationality.
The hint that we are heading to a recession is causing him to lose whatever he has left of his mind.
Cannot blame President Obama for what his tariffs have set in motion.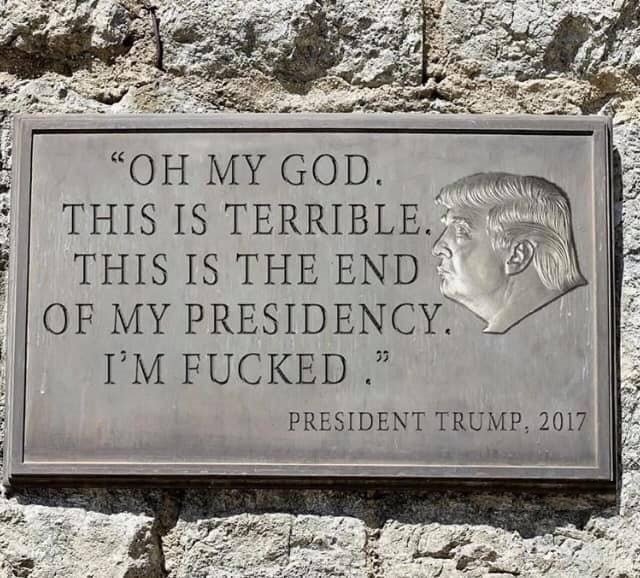 Looks like a 4 year old toddler.
In 'Little Donnie' brain.
There is a 'left' and 'right'.
In the left side, there-s nothing right.
In the right side, there-s nothing left.
'Little Donnie' asked the adoring crowd.
Who's going to pay for it?
And the crowd responded in unison.
Mexico!
Mexic!
Mexi!
Mex!
Me!
And then the crowd shouted, at the tops of their lungs.
You said Mexico was going to PAY!
#ObamaOutdidTrump
#25thAmendmentNow
#FakePresident
UTI - Useful Trump Idiots.
#MoscowMitch - must go.
#MassacreMitch - must go.
#LeningradLindsey - must go.
#APPRENTICE PRESIDENT OF THE UNITED STATES people!
#IHerebyOrder
#AgeOfTrumpNOT
Tell me who you walk with, and I'll tell you who you are.
Roses are red.
Violets are blue.
Diabetes II or Diabetes 2
Affect a few.
What's a body to do?
Walk a few.
Blocks or in a local mall.

Looking more like the puppet Walter!
Ricardo in virtual reality.
Virtual reality.
Is the term used to describe a three-dimensional.
Computer generated environment.