Non Gratum Anus Rodentum
(Not Worth A Rat's Ass)
Naturam expelles furca tamenasque recurret
(You can chuck out nature with a pitchfork but it will come back just the same)
From the web.


The sign referred to philanthropist Bill Gates, who has sounded the alarm on pandemics, and Dr. Anthony Fauci, the popular science expert on Trumpís coronavirus task force and the director of the National Institute of Allergy and Infectious Diseases. Fauci has warned of serious health consequences if the nation reopens the economy too quickly and drops safety precautions during the COVID-19 crisis.
@realDonaldTrump
People can't get enough of this.
Great people!
@greg
The "billionaire" who hides his tax returns.
The "genius" who hides his college grades.
The "businessman" who bankrupted 3 casinos and lost over $1B in 10 years.
The "playboy" who pays for sex.
The "Christian" who doesn't go to church or read the bible.
The "philanthropist" who defrauds charity; like the Veterans.
The "patriot" who dodged the draft.
The "innocent man" who refuses to testify.
The "married family man" who is divorced twice and had affairs behind the backs of each of his 3 wives.
The "hard working and minimal golfer" who has golfed more then most modern day Presidents in his first term.
And we have payed Trump over $115 million to golf at his own resort so he can pocket our money.
@jane
Neither Fauci nor Gates have any authority over whether states, counties, or cities reopen.
All they can do is say what they know.
But it seems that many, many people in the country are opposed to that if it isn't what they want to hear.
@shad
Let's hear it for the first special needs President in U.S. history!
Now show him the door.
@ryan
Can this administration do anything that isn't a complete rip off of something that someone else did or said???

Looks like a 4 year old toddler.
STAY HOME - STOP THE SPREAD - SAVE LIVES
New York State Governor Andrew Cuomo
New York State Governor Andrew Cuomo, my State puts more money than it takes out.
The 'Grim Reaper mcconnell' state take out more than they put in.
Which State is being bale out?
New York State Governor Andrew Cuomo
The United States are not red and blue
They are red, white and blue.
Donald aka King (in his own mind) is so vain.
When the chips are down, now and than.
He looks for others to carry the load.
So if things go bad.
He has others to blame.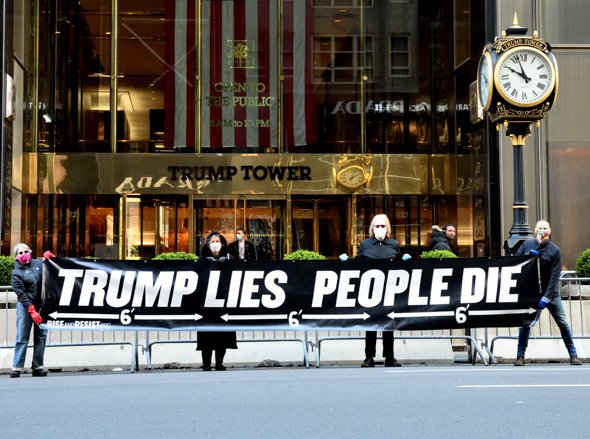 #ObamaOutdidTrump
#25thAmendmentNow
#FakePresident
UTI - Useful Trump Idiots.
#MoscowMitch - must go.
#MassacreMitch - must go.
#LeningradLindsey
#APPRENTICE PRESIDENT OF THE UNITED STATES people!
#IHerebyOrder
#DevinNunesIsAnIdiot
#seanhannityIsAnIdiot
#proud-never-trumper
#WeLoveYouMeghan
#CutiePie
#WeWillMeetAgain
#vote
Tell me who you walk with, and I'll tell you who you are.
Roses are red.
Violets are blue.
Diabetes II or Diabetes 2
Affect a few.
What's a body to do?
Walk a few.
Blocks or in a local mall.

Ricardo in virtual reality.
Virtual reality.
Is the term used to describe a three-dimensional.
Computer generated environment.