Non Gratum Anus Rodentum
(Not Worth A Rat's Ass)
Naturam expelles furca tamenasque recurret
(You can chuck out nature with a pitchfork but it will come back just the same)
From the web.
Speaker Nancy Pelosi said Thursday that she was giving President Donald Trump "a dose of his own medicine" when she described him as "morbidly obese" in a television interview earlier this week.
"I didn't say anything about the president."
"I gave him a dose of his own medicine," Pelosi told reporters in her weekly press conference when asked about her dig at Trump's weight.
"I was only quoting what doctors had said about him and I was being factual in a very sympathetic way."
Trump reacted angrily to Pelosi's swipe at this weight, calling her a "sick woman" with "a lot of mental problems."
I said, he's our president, we don't want our president taking something that could be dangerous, as the scientists have said, Pelosi said.
If he takes offense at that, well, I could take offense at a lot of things, but they don't mean that much to me.

Looks like a 4 year old toddler.
STAY HOME - STOP THE SPREAD - SAVE LIVES
New York State Governor Andrew Cuomo
New York State Governor Andrew Cuomo, my State puts more money than it takes out.
The 'Grim Reaper mcconnell' state take out more than they put in.
Which State is being bale out?
New York State Governor Andrew Cuomo
The United States are not red and blue
They are red, white and blue.
Donald aka King (in his own mind) is so vain.
When the chips are down, now and than.
He looks for others to carry the load.
So if things go bad.
He has others to blame.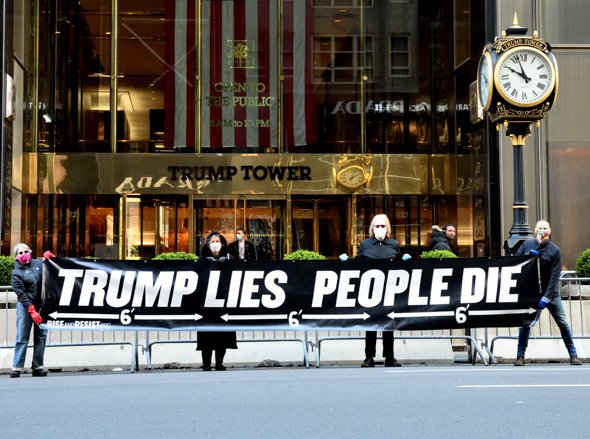 #ObamaOutdidTrump
#25thAmendmentNow
#FakePresident
UTI - Useful Trump Idiots.
#MoscowMitch - must go.
#MassacreMitch - must go.
#LeningradLindsey
#APPRENTICE PRESIDENT OF THE UNITED STATES people!
#IHerebyOrder
#DevinNunesIsAnIdiot
#seanhannityIsAnIdiot
#proud-never-trumper
#WeLoveYouMeghan
#CutiePie
#WeWillMeetAgain
#vote
#President Tweety!
Tell me who you walk with, and I'll tell you who you are.
Roses are red.
Violets are blue.
Diabetes II or Diabetes 2
Affect a few.
What's a body to do?
Walk a few.
Blocks or in a local mall.

Ricardo in virtual reality.
Virtual reality.
Is the term used to describe a three-dimensional.
Computer generated environment.